This weekend we took Miley and Howie to the beach!! It was their first time ever to the beach and we all had a BLAST! I am so glad we found out about this place, we will definitely be going back as often as we can! :) I think I took MORE pictures than I have ever taken of Miley and Howie all at one time. There is also a very cute video of them running up and down the beach! Check everything out by clicking below!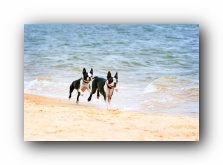 New Pictures of Miley
and Howie at the beach!!!

Thanks for looking!!! :)