Welcome to Monster Movie Monday! You don't want to miss today's double feature!! :) First up- Boston Terriers on the Beach! This is one of my favorite videos of Miley and Howie to date! :) Howie tries so hard to catch his frisbee on the beach- when he finally gives up, Miley swoops in and shows him how it's done. Then- you have to see what Howie does to show her up at the end! :)
If it's jumpy, you may have to pause it and let the video download all the way.
For an even greater viewing experience, watch this video in
high definition widescreen on Youtube!!!
Next up…
…It's Miley the Boston Terrier at the AKC Agility Trials! :) Miley tears it up at the Huntsville (HOTC) and Decatur (DAKC) AKC Agility trials in May of 2009!
Kevin gives us a handler's look at what we'll see in these videos…
"The first four runs were all at the HOTC trial, the last two runs are at the DAKC trial.
The first run is Miley getting her second leg (second qualification- just one more and she'll move up to the next class!) in the Open Standard division.
The second run is another Open Standard course which could have earned her the OA (Open Agility- it would've been the "third leg") title but she knocked a bar off in the middle of the course. That's never happened before! It is still a really nice run.
The third run is of Miley finally getting her Open Standard title (She finally got that third leg!). Miley got a little confused on the table- she was supposed to sit but she just wanted to lay down! But I finally got her sitting and we kicked it into high gear to finish under time. Amazingly we still got first place on that run to go along with the title!
The fourth run is Miley's first run on an Excellent A Jumpers with Weaves (JWW) course. We were doing so good until I crossed her up right at the end to get a refusal on a jump which NQ'd us. Sorry Miley, we'll get it next time!
The fifth run in this video is Miley getting her first Q in an Excellent A standard course. We took it slow and steady to make sure we didn't fall for any traps out there, but we still came away with 1st place.
The last run is Miley getting her first Q in an Excellent A JWW course. I love doing the JWW courses because Miley can do them so fast. She picked up first place on that run as well."
Oh, and guess what! :)

This picture of Howie is this week's LittleBeasts' Photo of the Week! If you can think of a funny caption for this picture, head on over there and submit your caption! Check back next week for the winning caption. :)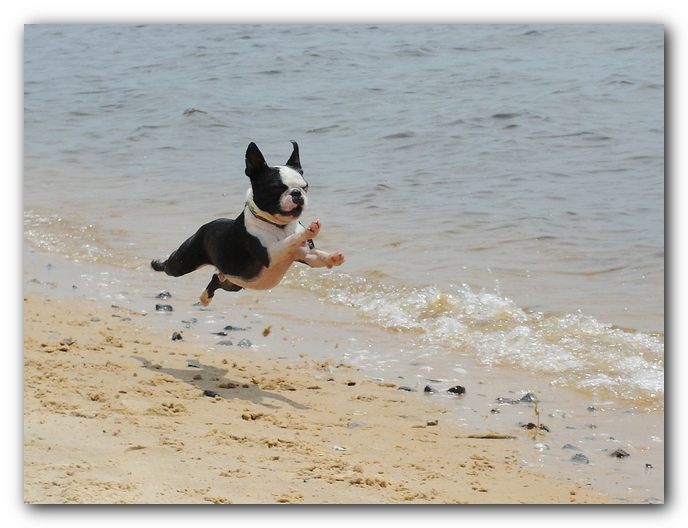 Thanks for looking!